Ginn sur Mer Update
First 240 Homesites Selected
October 5, 2006
The much-anticipated first offering of the Ginn Clubs & Resorts community in The Bahamas, Ginn sur Mer, has been an overwhelming success, with over $160 million dollars in real estate being reserved in the first six weeks. To date, 240 families have joined the community by selecting home sites.

Waterfront Canal Property Still Available
If you've ever dreamed about having your boat in your backyard and the sights and sounds of the ocean in your front yard, don't miss this once-in-a-lifetime opportunity to select from a handful of choice waterfront canal properties.

Never again will waterfront property be released with such convenient access to the Club and the surrounding amenities, yet priced to represent a truly ground floor and pre-development opportunity.
Although future Ginn sur Mer properties may have dock and water access, none will have the location and pricing that will be available in the first phase offering. The best location is being offered first, and those who act quickly will be rewarded with superior location and incredible pricing (prices in the $800's).

Oceanfront Homesites
If direct oceanfront is what you desire, the first phase also includes homesites directly on the Atlantic Ocean, where the turquoise waters are separated from your backyard by a wide stretch of sugar-white sand beach.
If you've ever watched the TV commercial for "Corona Beer" and marveled at the beauty and serenity of the white sand beach and the ocean in the background, this is your chance to own it. In fact, several ads for that product have been shot right on Grand Bahama Island.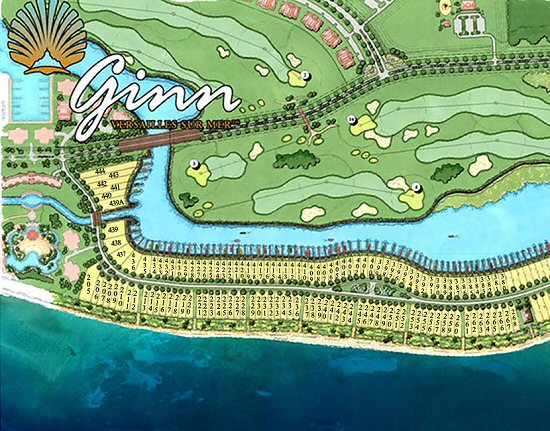 As one founding member who recently selected his oceanfront homesite commented, "This is what I dream of when I dream of owning oceanfront - white sand and crystal blue ocean with colors that you can't accurately describe with words." All this within walking distance to the Club amenities and priced lower than most golf homesites in Florida (from the $1.2's).

Golf Homesites
This first phase offering will also include a very limited number of golf homesites, so close to the ocean that you will hear the waves gently coming ashore from your lanai. This Arnold Palmer design is destined to become one of the top courses in the world, and the opportunity to secure a property on this masterpiece will be available with pre-development pricing.
With only these 66 homesites having golf views that overlook the mega-yacht marina and close ocean proximity, these sites are truly the very best (prices from the $500's).

Act Now!
The term "once in a lifetime opportunity" is loosely thrown around in today's real estate market, bit this is one time when it truly does apply. If you think you might be interested in a waterfront or golf course home at Ginn sur Mer, contact us today for details on available inventory and how to proceed.
305-944-3090