Ginn sur Mer Update
Blasting of Harbor & Marina Begins
October 11, 2006
Ginn Clubs & Resorts has officially begun blasting the main harbor area and mega-yacht marina for Ginn sur Mer.

While the picture below is "unimpressive," it's an accurate depiction of what's taking place at various strategic points on the island. As Mr. John Davies, Sr. Vice President Development, puts it, "If the event were visually spectacular, that would mean something went very wrong."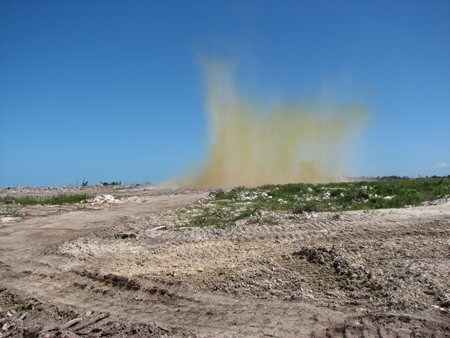 Year-to-date Ginn Clubs & Resorts has spent in excess of $100 million in development, focusing its efforts on the opening of a private runway for Ginn sur Mer owners and guests and the establishment of on-site customs and immigration offices. It has also been engineering and preparing some of the 230 properties that have already been purchased for home construction, and sales and administrative offices on site.

Another focus has been site preparation for a couple of golfers you may have heard of, Mr. Jack Nicklaus and Mr. Arnold Palmer, who will soon begin working their magic and turning some of Ginn sur Mer's six miles of oceanfront land into what promises to be two of the most spectacular golf courses in the Caribbean.

With all of this activity in development, as well as over 230 families securing property in just under six months, Ginn Resorts has announced a substantial price increase on the immediate horizon.

If you are interested in possibly reserving a home site at Ginn sur Mer, you'll want to act quickly to get in at the lowest possible prices. Contact us at info@CondoHotelsBahamas.com or call 305-944-3090 for more information.