Ginn sur Mer Update
Ginn Resorts Buys
Old Bahama Bay Resort & Yacht Harbour
January 20, 2007
Ginn Resorts today announced the purchase of Old Bahama Bay Resort & Yacht Harbour located at West End, Grand Bahama Island. The agreement puts Ginn in control of the resort's operations, sales and development.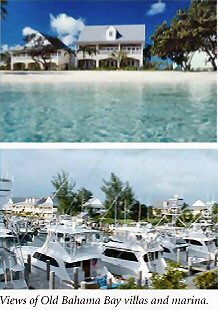 Old Bahama Bay is a 228-acre resort community featuring home sites, 73 luxury rooms and suites, and a 63-slip marina. It abuts the property being developed into Ginn sur Mer.
Resort amenities and services include: an oceanfront swimming pool, dockage at the state-of-the-art marina, fitness facility, casual and fine dining venues, spa services, complimentary water sports and snorkel trails. Ginn will also assume responsibility of the resort's 175 employees.
"The addition of Old Bahama Bay will add great value to the future development of Ginn sur Mer," said Bobby Ginn, President and CEO of Ginn Resorts. "This management agreement allows us to further deliver on our promise to create not only a world-class resort destination, but a revived economy for the West End community."
The purchase of Old Bahama Bay may result in a modification of Ginn Resort's construction plans. Originally, the company had planned to develop several different areas of Ginn sur Mer simultaneously. Now it will likely begin developing the project in the location of the Old Bahama Bay and begin moving east.