Ginn sur Mer Update
Ginn Company Secures $160 Million to Complete Infrastructure and Amenities
August 25, 2007
With each passing day the vision of Ginn sur Mer becomes clearer. Over the past year a tremendous amount of work has taken place on this immense oceanfront property.
From dynamite blasting out the mega-yacht harbor, to the largest bulldozers Caterpillar makes shaping the canals and homesites, the Ginn Company currently has over $90 million of equipment working daily to bring Bobby Ginn's vision for Ginn sur Mer to reality.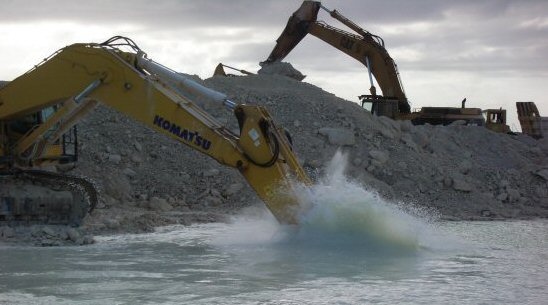 Until now some of the development timelines have been vague. No longer! The Ginn Company has secured a letter of credit for a record $160 million to ensure the completion of the infrastructure and various amenities in Ginn sur Mer.
Of that letter of credit $36 million will go directly to the first 18 holes of golf in the community, nine from Arnold Palmer, nine from Jack Nicklaus.

This news is now more exciting than ever with the PGA's announcement of Ginn sur Mer's inaugural PGA Tournament scheduled for October of 2009! This will play a major role promoting this community and ensuring its success.
The timeline is set, the money is allocated, and now Ginn Company will make it happen. In just over two years, the first Ginn sur Mer residents will be relaxing in the Bahamas, enjoying the first-class events that have become synonymous with The Ginn Company name.

Contact us at Info@CondoHotelsBahamas.com with any questions on Ginn sur Mer.