Pure Caribbean ecstasy is only 85 miles away
Grand Bahama Island, 85 miles from Fort Lauderdale, has a lot more going for it than location, location, location.
By Madeleine Marr
The Miami Herald
March 5, 2006
After logging soul-sucking hours on commuter-clogged highways during the workweek, it's understandable wanting to save time getting to your vacation destination.
That's precisely why Grand Bahama Island, a mere 85 miles off the coast of Fort Lauderdale, comes in so handy.
To dredge up an old cliché, the 96-mile-long island really does have something for everyone: the fisherman, golfer, gambler, shopper, diver, clubber, sunbather, para-sailer . . . and so on. But don't think the fourth largest island (after Andros, Inagua and Great Abaco) in The Bahamas isn't well aware of this geographically attractive gold mine.
''It's our time,'' says David Johnson, president of the Grand Bahama Island Tourism Board. ``We have what many Caribbean islands do -- powder-white beaches, crystal-clear waters and a hell of an opportunity for game fish . . . just closer.''
Easier to get to, too: A $30 million terminal was recently unveiled at Grand Bahama International Airport. It can handle 800 passengers an hour, four times its previous capacity.
Could it be the island's expecting more people?
Yes, Johnson says. Lots.
The aptly named New Hope Holding Co., developers of real estate and marinas, is set to build a $250 million condo-hotel in the port city. The five-year project should start up shortly.
This is a real boon to locals; many staffers will come from the defunct Royal Oasis Hotel & Casino, which never reopened after two brutal blows from hurricanes Frances (Sept. 3, 2004) and Jeanne (the death knell, 22 days later). More than 1,200 people were displaced.
ECOLOGY-CONSCIOUS
Growth is good. But will such rapid development deal a worse blow than nature ever could?

No chance, Johnson says.
''We are extremely concerned with maintaining the land. We have something called [the cabinet-appointed] Best Commission and Bahamas National Trust, which looks at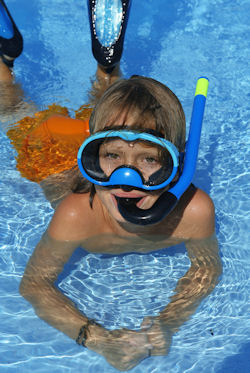 every proposal and development to ensure they don't destroy ecology, especially along the coast.'' He doesn't want to stop talking about this issue. It is obviously important to him, to his home.
''Really now,'' he says. "How much development can we withstand? We are just an island.''

Just? Hardly.
I recently headed to the capital city of Freeport and its tourist zone, Lucaya, the mega-popular 51-year-old man-made playground where I'd vacationed in fall 2003. The only difference -- if possible: more people.

Sunburned ladies in floppy hats toted around bored-looking husbands in Bermuda shorts at Port Lucaya Marketplace, a six-acre waterfront mall with constant live entertainment; little girls in Bo Derek braids skipped through the International Bazaar, a mini-Epcot of multiethnic restaurants and shops.
At the center of it all: the seven-acre Our Lucaya Beach & Golf Resort, a $350 million three-hotel-cum-behemoth buzzing with activity and midriffs, where young couples sipped Kalik beers, enthusiastic families noshed on conch fritters at the oceanfront bars and gambling types hid out in the new Isle of Capri casino, all 38,000 square feet of it pulsating.
Our Lucaya is quite the place. With 14 restaurants, nine pools, eight bars, children's camp, water park, spa, two 18-hole courses, four tennis courts and shopping mall, it's certainly not for every taste. Though if you're visiting Freeport, it's probably the best call. Rooms are plentiful (1,260), packages are reasonably priced (many all-inclusive) and you're right smack on the beach.
Like a little white noise with your piña colada? Then better prep yourself for a half-hour drive.
GINN SUR MER - NEXT IN SPOT
The lesser-known West End -- about 30 miles away from Freeport/Lucaya -- is shaping up as the island's next go-to spot, according to Terrance Roberts, director of business development and public relations for Grand Bahama Island.
West End was recently selected as the site for the humongous -- 2,000-acre -- Ginn real estate development, Ginn sur Mer, which will be phased over a 20-year period, he confirms. Keep an eye out for 4,400 condo/hotel units, 870 single family residential home sites, two championship golf courses, two marinas, beach clubs, a private airport and more at Ginn sur Mer.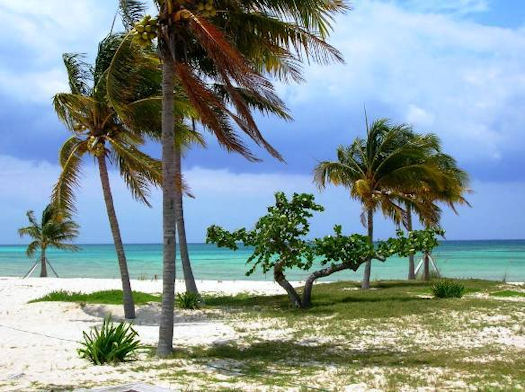 It's already home to 5-year-old Old Bahama Bay, a marina-resort of 47 oceanfront suites in low-rise villas, amid pristine beach and manicured paths that has been forced to close twice to repair hurricane damage.

Now fully functional, this luxuriously genteel place was the site of the defunct Jack Tar Village resort, once the main source of employment for West Enders, who were plenty worried when the sprawling all-inclusive shuttered in 1990.
Built by Dallas millionaire Charles Sammons, Jack Tar was one of the swinging vacation spots of the 1960s and '70s, when it employed about 700 people. Old Bahama Bay's opening was a blessing. Then came the hurricanes.
''We've had some scary times, for sure,'' says Jerreth Role, director of guest services who used to work at Jack Tar. ``West End people are happy again. We're OK.''
That would be an understatement: Old Bahama Bay just broke ground on a $378 million expansion plan including more rooms, condos and a high-end spa.
This summer, fishermen will have a new place to dip their lines -- at the Blue Marlin Cove, a contemporary 30-room hotel/condo in Bootle Bay, about four miles east of Old Bahama Bay on the southwest tip. Another similar property is in the works for the little fishing community of Deadman's Reef, still further east.
STILL SERENE
For now, it's still pretty quiet. That evening my companion and I tooled about on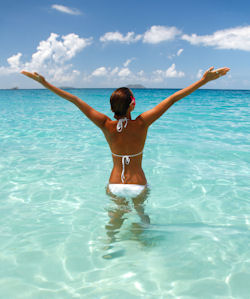 bikes, stopping in the darkness to listen for splashing noises, imagining what critters, large and teeny, glided beyond us in the dead-calm bay. We decided to venture off the property, ringed with private homes.

Back at the hotel, a few stragglers -- fishermen, it turns out -- hugged the small bar, throwing back a few cold ones.
Why here? I asked.
''You gotta be kidding me. It's so close,'' says Don Wetz, a boat salesman from Atlanta who rode in via Palm Beach, a little over 50 miles away. ''Nassau is seven hours, this is two.'' The math does add up. And it doesn't hurt that Old Bahama Bay's marina offers on-site Bahamian customs and immigration services. Buddy Rick Moore, of Miami, had a more Zen take. ''West End's so serene,'' he says. "Lucaya's full of families, gamblers and drinking. We come here to relax.''