Ginn sur Mer Begins Development of Luxury Resort Community
Building Booms in the Bahamas
By Amy Martinez
Reprinted from the Miami Herald, August 28, 2006

WEST END, Bahamas - Per-capita income in the Bahamas is about $18,000, and the unemployment rate is around 10 percent.
At the western tip of Grand Bahama Island, nearly 60 miles east of Palm Beach, there isn't a palm tree in sight. A 2,000-acre swath of limestone is rimmed by tidy mounds of scorched pines and scrub.
Overhead, a Beachcraft 1900D circles a few times and then touches down on a runway stretching along the jewel-like sea. About a dozen prospective buyers step onto this pre-construction site, the precursor for what's promised to be a $5 billion resort community called Ginn sur Mer.
''You have to have a lot of imagination,'' says John Davies, a vice president with the Orlando-based Ginn Co., referring to the barren site. ``People can come over here and buy a lot and be on the ocean for a very reasonable price.''
Already, says Davies, buyers have signed up for 200 waterfront lots with an average price of $900,000. Ginn sur Mer also will offer golf courses, boat slips, shops, restaurants, a casino and 4,000-room resort, making it bigger than Atlantis, the Paradise Island development that revived Bahamian tourism during the 1990s.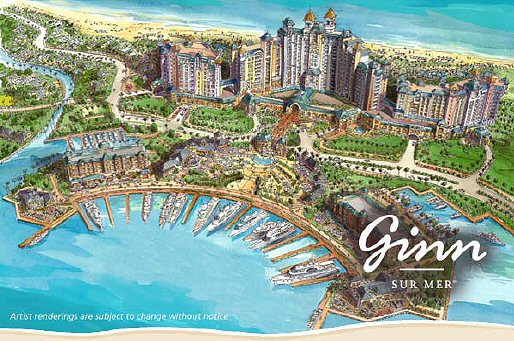 Ginn sur Mer is one of a dozen major resort communities that are either planned or under construction throughout the Bahamas. Collectively, they cover 18,700 acres and represent a potential investment of more than $12 billion, amounting to one of the biggest building booms the Bahamas has ever seen and nearly double the Bahamas' annual gross domestic product.
Developers point to three prime reasons for the unprecedented interest in the Bahamas: South Florida's crowded coastline, baby boomers with disposable income, and a supportive government under Prime Minister Perry Christie.
''It's the new frontier,'' said Allen Ten Broek, president of Old Bahama Bay, a resort community under construction next to Ginn sur Mer. ``The natural resources are superb, and the Bahamian people are lovely. They're very development-friendly.''
PROS AND CONS
Bahamian officials say the developments are providing thousands of jobs for local residents, a particularly potent message in parts of the Bahamas hit hard by hurricanes.
But some say all the development is too much too soon. They say the Bahamas lacks adequate infrastructure for a large influx of tourists and is jeopardizing its natural resources by courting all the development.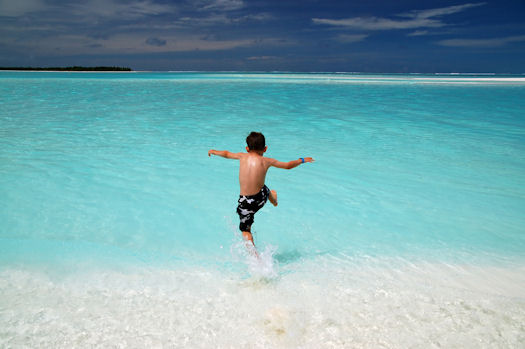 The developers, who say getting government approval is no sure thing, have promised to hire Bahamians.
''We have contractors lined up to start immediately, and I'd add that they're Bahamian contractors. That's a very important fact,'' Davies said, noting that he expects to create up to 2,000 construction jobs.
''You can't come in as a big ugly American and try to throw your weight around,'' he said. "These folks will stall you, and they have every right to.''
Some critics also say the new jobs aren't always a boon to Bahamians.
Bimini Bay Resort and Casino, for example, gets most of its 300-member construction crew from Latin America and the Spanish-speaking Caribbean. Developer RAV Bahamas, a subsidiary of Miami's Capo Group, said there weren't enough skilled workers locally to fill its temporary construction jobs.
However, the developer says its $850-million project eventually will create more than enough permanent positions for Bimini's 1,600 inhabitants.
CAMPAIGN PROMISE
At a public appearance in May, Christie pointed to all the development as among his achievements since becoming prime minister in 2002. Christie, who will seek reelection next year as the Progressive Liberal Party candidate, said he has lived up to his promise of putting a major tourism project on virtually every island with a significant population.
''We have secured the future economic prospects of the Bahamas, prospects which are unrivaled in this region and without precedent in the economic history of our country,'' Christie said.
But Freeport lawyer Fred Smith countered that the developments will strain tensions between the mostly white tourists and the mostly black Bahamian population. With homes selling for six and seven figures, he says, they will be out of the financial reach of most Bahamians. Per-capita income in the Bahamas is about $18,000, and the unemployment rate is around 10 percent.
CHANGING LIFESTYLE
Smith, who is running for a seat in Parliament as a member of the opposition Free National Movement, has filed a lawsuit against Baker's Bay in Guana Cay, a 600-acre resort planned by Discovery Land Co. of Scottsdale, Ariz. Smith said he represents about 200 Guana Cay residents who oppose the project on the grounds that it will destroy coral reefs and change the laid-back feel of the island.
''In the states, you try to preserve some of your pristine land,'' Smith said. 'Here, every time a developer finds some piece of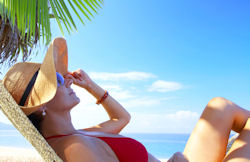 pristine land, he runs to the government with glossy plans for transforming it, and the government says, `Oh, yes!' ''
Livingston Marshall, senior vice president of community affairs at Baker's Bay, rejected the notion that the development will overtake Guana Cay. He said fewer than half of its planned 400 homes are likely to be occupied at any given time.
''These are primarily going to be second, third and fourth homes for people,'' Marshall said. ``The concerns about the land, the concerns about the environment -- we've addressed all those things. There are just people in Guana Cay who don't want it to change.''
EAGER TO BUILD
On a recent day in West End, Davies, who's overseeing Ginn's development, pulls over his white Chevrolet Suburban and dials his cellphone. Ginn has cleared the land and is waiting for final approval from Bahamian officials to start building. Davies, an engineer who bears a strong resemblance to Scottish actor Sean Connery, appeals to an official for help moving things along.
''I think the response time from the U.S. Army Corps of Engineers would be longer, but nevertheless . . .,'' Davies says into the phone, and chuckles somewhat tentatively. ``People are wondering when the jobs are coming.''
Later, Davies explains the difference between developing in the Bahamas versus the United States, where Ginn has eight resort communities, mostly in Florida and South Carolina.
''You have the same bureaucracies, but the individuals in the bureaucracies here are more accessible,'' he says. ``If you're dealing with the Corps of Engineers, you're really just a number. Here, you have the possibility of being able to state your case in person.''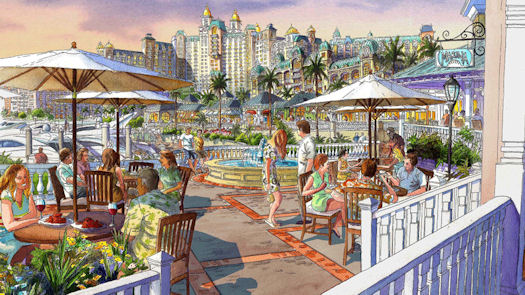 LOTS OF JOBS
At nearby Old Bahama Bay, a 6-year-old development, about 100 Bahamians are put to work in construction daily and an additional 135 perform jobs in the hotel and restaurants. Peter Watson, 39, makes about $40,000 a year overseeing the resort's marina -- enough money so that the West End native can now build a house near his childhood home.
Watson said West Enders initially feared that Ginn would ``come in and muscle them out of their land.''
''But that's not happened,'' he said, adding that government controls also ensure that groceries will remain affordable. ``They're not going to be able to sell a can of milk for $5 just because Ginn is next door.''
LOCAL SUPPORT
The developments seem to have the support of many Bahamians, particularly in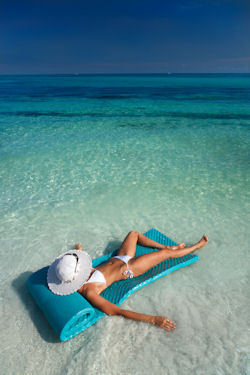 Freeport, where much of the infrastructure needed for them already is in place, and where businesses are still trying to recover from two years of hurricane damage.
''They could bring in a million tourists, and I wouldn't care,'' Rodeka Williams, 34, said recently at Freeport's Lucaya Village Marketplace, where she was helping a friend sell souvenirs to tourists.
Williams, who is unemployed, said she's struggling to find a job and worries about her son's prospects. At 16, he'll soon be entering the labor force. ''I want things to happen, so that when he finishes school, there will be a job for him,'' she said.
Nagee Smith, 14, who makes about $300 a week in salary and tips working at a summer job at a Freeport gas station, hopes to become a police officer. He said he believes the new developments will raise the standard of living for Bahamians. ''We just need to get more civilized,'' he said. ``We're like a Third World country now.''
GIVING BACK
About two months ago, Ginn held a ceremony under a big tent at its West End site to donate an ambulance and fire truck to local residents. Nearly 150 people attended.
A torrent of rain knocked down the tent, injuring some 30 people, said Davies, who sustained cuts and bruises. One woman had to be carried in that just-donated ambulance to a local hospital, Davies said. She was then transported to Jackson Memorial Hospital in Miami.
The incident exposed some inadequacies in the Bahamian medical care infrastructure, but there are promises of improvements. Ginn has established a nonprofit foundation with proceeds from lot sales to help West End.
At Grand Bahama Yacht Club in Freeport, developer Preben Olesen plans to build a medical office building with an emergency room and pharmacy -- in addition to space for plastic surgeons catering to wealthy baby boomers.
MONEY TALKS
For those in that income bracket, no amenity is spared. A $12 million home at Grand Bahama Yacht Club, for example, comes with an indoor boat slip lit by chandelier. A brick path leads to a climate-controlled shed housing about 20,000 bottles of wine imported from France.
Olesen, a 62-year-old native of Denmark, moved to Grand Bahama Island in the late 1990s planning to retire after developing homes and shopping centers in Central Florida. Instead, he saw business opportunity in Freeport, and his New Hope Holdings now owns two marinas, a restaurant and more than 50 acres where he plans to build 240 homes over the next seven years.
Steven Olesen, a son of Preben Olesen who oversees sales at Grand Bahama Yacht Club, has a favorite saying: ''We're not selling bricks and mortar. We're selling a lifestyle.'' So far, 24 homes have been built and sold.
He looks for buyers at worldwide gatherings of boaters, golfers and aviation buffs, the type of people likely to be able to afford the steep home prices. Prospective buyers typically are treated to a cocktail party and dinner at the Ferry House restaurant, where wall photos bear witness to a visit by celebrity chef Emeril Lagasse.
''This is a very upscale, mature type of audience,'' Steven Olesen said.
APPEALING TO BUYERS
Back at West End where a new group of prospects has just arrived, Ginn employees in white Suburbans line up at the end of the runway as the potential buyers step off the plane. Ginn already has taken them to its other resorts, Davies says, ''to show them the quality that we build.''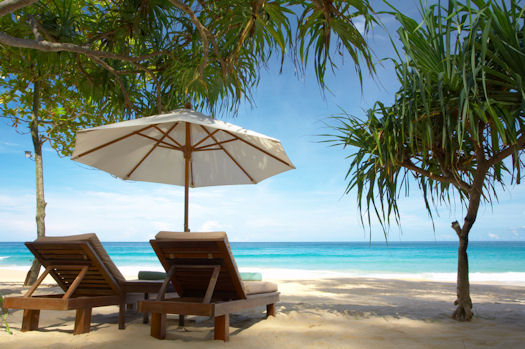 The company is hoping to sell an additional 150 home sites by year's end.
Nearby at Old Bahama Bay, weeds and pine scrub give way to palm trees and hibiscus bushes. Backhoes and bulldozers stand ready for the next wave of development. Nearly 100 condominiums and 90 boat slips are expected to go up for sale soon. About 120 lots already have been sold for as much as $2.5 million.
A mile or so away, Donald Pinder, 63, sits on an electric-blue plastic crate and casts a line into the turquoise sea, hoping to catch dinner. Born and raised on Grand Bahama Island, the father of seven earns $5 an hour as a security guard at a local manufacturing plant.
He said he welcomes the tourists who drive by in their Suburbans and SUVs.
''The more, the merrier,'' he says. ``We're all God's people.''