The Palace at Ginn sur Mer
At the center of the gardens, the golf, the marinas and canals will be the colossal palace, destined to become the icon of Ginn sur Mer. Inspired by the French Palace of Versailles, it will be visible from nearly all points on Grand Bahama island as well as from air and sea.
The palace at Ginn sur Mer will include exquisite gardens interspersed with elaborate fountains and reflecting pools. Numerous seating areas will allow guests to relax and appreciate the breathtaking views and tropical setting.
The interior of the Ginn sur Mer palace will be decorated with a plethora of tropical plants indigenous to the Caribbean, creating a seamless indoor-outdoor experience.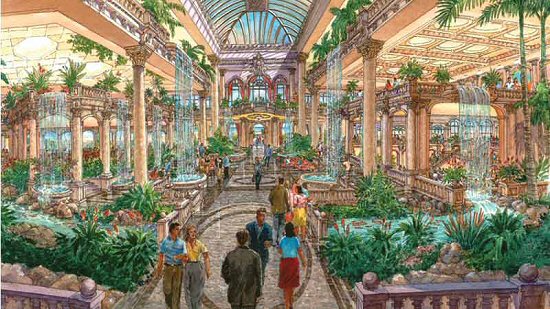 The main lobby will feature cascading waterfalls that enhance the atmosphere not only visually but acoustically as well. Overhead, a canopy of glass will allow ambient natural light to bring the Bahamian sunshine indoors.
The palace will be where guests get their first impression of Ginn sur Mer as they check into the resort. It will also be a focal point for all visitors throughout their stay because it will contain the resort's "amenity core," including its Monte Carlo-style casino, world-class spa, upscale retail stores and designer boutiques, and a full spectrum of dining venues.