The Marinas at Ginn sur Mer
Ginn sur Mer will be a boater's haven. It will have two marinas. One of them will be a mega-yacht marina, the largest in the Caribbean. It will contain 500 slips and be able to accommodate everything from 23 foot boats to 250 foot super yachts.
Owners and guests will be able to dock their boats and receive first-class service. At the marinas, guests will also be able to charter boats for a day of snorkeling, fishing or sightseeing.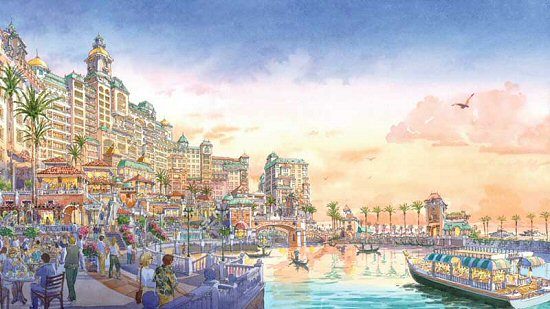 Because the Grand Canal will serve as the main travel source throughout the resort, boaters will feel right at home. Much like Italy's Venice, water taxis and gondolas will whisk guests to the restaurants, shops and their accommodations.
In addition to being functional and minimizing road traffic, the Grand Canal will be one of the most unique and attractive features of the resort. A latticework of canals will wind throughout the entire property past the major buildings, gardens, fountains, pools and homes.
Many of the homes at Ginn sur Mer will be on the water and have deep water docks with 60 foot boat slips, allowing owners to practically drive their boats right to their own back door.
Quick Overview of the Proposed Mega-yacht Marina
100 acres total harbor area, the largest manmade harbor in the Caribbean

Fuel storage for mega-yachts at each slip

Full concierge services for every yacht

All docks will be floating

Minimum depth of 15' below minimum low water

Inlet is planned to break through in mid-fall 2008

Marina will use approximately 50% more power than the Atlantis marina

Marina yacht capacity:  5-250', 6-225', 18-150', 34-70'