The Grand Canal at Ginn sur Mer
Much like Italy's Venice, the Grand Canal will serve as the main travel source throughout Ginn sur Mer. Water taxis, vaporettos and ornate gondolas will deliver guests to the restaurants, shops, the casino and their accommodations. Private boat owners will also be able to navigate the canals.
The canal system will not only be functional, serving to minimize road traffic, it will also be one of the most unique and charming features of the resort. A 10-mile network of canals filled with the same clear aqua ocean water that surrounds Grand Bahama Island, will wind throughout all of Ginn sur Mer past the major buildings, gardens, fountains, beach clubs and homes.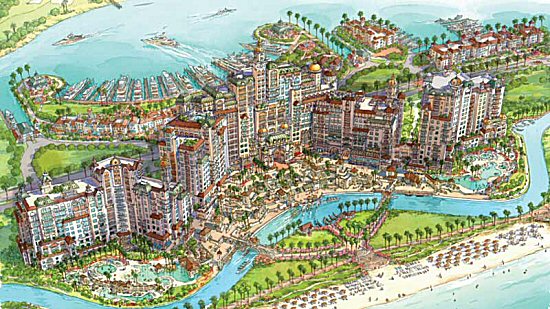 The main canal will provide direct access to the Atlantic from the central marina at the resort's core. Fifteen feet deep and over 900 feet across at its widest point, it will easily accommodate the largest of today's mega-yachts. Canals in other parts of the community will be about 12 feet deep and 70 feet wide. The operation will involve blasting, digging and shaping.
In creating the canal system, much fill will be generated. That fill will have a purpose. Ginn Clubs & Resorts will use it to raise the sea level of the entire resort to 10.5 feet, ensuring its protection in case of a hurricane or storm surge. Some of the fill will also be used in shaping the resort's Arnold Palmer and Jack Nicklaus golf courses.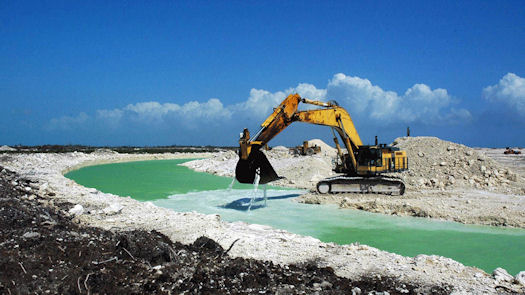 Construction on the canal system began in early 2007 and will take approximately two years to complete. Estimated cost is $100 million.