Jack Nicklaus and Arnold Palmer Golf Courses at Ginn sur Mer
Ginn sur Mer will be a golfer's paradise. The plans for the two signature 18-hole golf courses are elaborate. They will be designed by two of the greatest names in the history of the sport, Arnold Palmer and Jack Nicklaus.
These signature courses will be the first Bahamian courses for each designer. They are expected to be the best in the Caribbean and among the finest in the world.
First-class in Every Way
The budget to create these two courses is $75 million! When you consider that the average cost to develop a high-end golf course is approximately $10 million, you can imagine the quality that will go into these signature courses.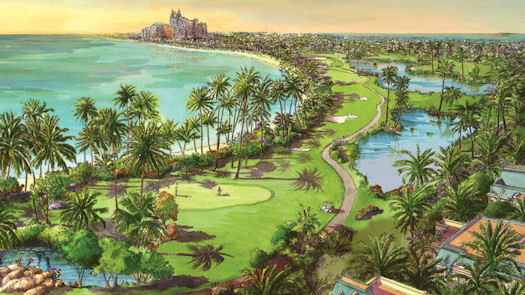 The courses will each feature oceanfront holes and strategic routing. They will meet at a grand clubhouse offering amenities and activities such as fine dining, gracious locker rooms and spa services. In addition, there will be driving ranges, state-of-the-art training facilities and dedicated professionals to offer hands-on instruction.
Unique Construction Challenges
Because Grand Bahama is mostly made of limestone and coral, like most Caribbean islands, it presents significant challenges to building a golf course. Ginn Clubs & Resorts plans to bring in over 600,000 cubic yards of top soil from Stuart, Florida by barge, 5,000 cubic yards at a time.
In addition, some of the fill generated from the construction of Ginn sur Mer's Grand Canal system will be used to create different elevations in the unique designs of the golf courses.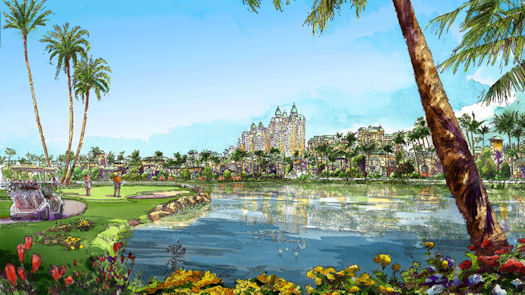 The Arnold Palmer and Jack Nicklaus courses will be among the first amenities built at Ginn sur Mer. Construction will begin at the end of 2006 and should be complete two years later, toward the end of 2008.
Ginn Knows Golf
Ginn Clubs & Resorts has a history of building amazing golf courses. Its Reunion Resort
in Orlando, Florida (pictured right) has three signature courses respectively designed by Jack Nicklaus, Arnold Palmer and Tom Watson. Reunion is also the site of the Ginn Open, the LPGA's largest purse tournament.
Ginn's resort at Hammock Beach in Palm Coast, Florida, has Jack Nicklaus and Tom Watson signature courses and recently was awarded the Champions Tour for the next five years.
Ginn also has experience building golf courses on islands, such as its beautiful Mahogany Run course in St. Thomas, U.S. Virgin Islands.